---
KSSP-5: The Lottery Ticket
Starring: Bambolina, Ami Black, Duke Trickle, with Amber Dawn
As this video opens, the apartment of two women is being robbed by the notorious Lottery Ticket Bandit. Blindfolded and bound (one in the bathtub and the other on the toilet!), the terrified women quietly speculate concerning their fate. Even that comfort is removed when the robber decides that his victims should be gagged. He stuffs their mouths and ties bandannas between their teeth. After the robber finds the lottery ticket, he leaves his two hapless victims to struggle in their bonds.
Two other woman (Bambolina and Ami Black) hear of the robbery on the radio. One of them thinks being bound and gagged during a robbery would be thrilling. Her roommate doesn't share her enthusiasm...an attitude that gets her hog-tied and gagged with scarves in her sexy lingerie. After getting free the roommate returns the favor, tying her friend to a chair in her bra and panties.
Later, excitement turns to terror when the two roommates realize that they have a winning lottery ticket only to have their home invaded by the Lottery Ticket Bandit. With taped hands and legs, the women can't resist when their mouths are stuffed and taped. Will they escape? Will the Bandit get caught?
---
The Lottery Ticket: (54 minutes long): $17 (postpaid, US and Canada). Available in VHS and PAL and all other formats.
---
Stills taken during production The Lottery Ticket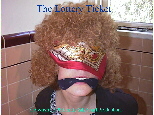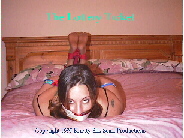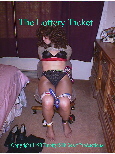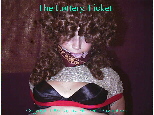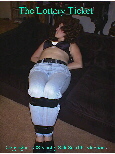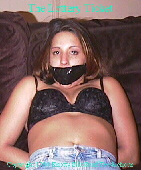 ---
BACK TO DAMSELS IN DISTRESS VIDEOS PAGE
---
| DAMSELS IN DISTRESS VIDEOS | HOW TO TIE | AMUSEMENT | SCARF FASHION |
| WHAT'S NEW? | CONTACT US | HOME |
© 1999-2001, Knotty Silk Scarf Productions.
All Rights Reserved.