---
KSSP-1: Real Estate Risks
Starring: Amanda Wealth, Vinnie Mora, Rosaly Lazar,
Tarah Lee, and Tammy May
In our first video, homemaker Barbara Wilson (Amanda Wealth) is told of a string of robberies in the neighborhood. During a nap, she has a nightmare about being bound and gagged during a robbery. Little does she know that shortly the real thing will happen. A handsome rogue (Vinnie Mora) and his exotic girlfriend (Rosaly Lazar) have targeted the Wilson house for robbery. Using a ruse, they gain entry into the house and easily subdue a real estate agent (Tarah Lee) and Barbara Wilson, but a curious neighbor (Tammy May) complicates the robbery. What follows is a seesaw battle with women tied-up and struggling at every turn. The women are bound with cord and scarves...hog-tied, chair tied, tied in the shower and more. They are gagged with scarves and handkerchiefs....cleave gags...stuffed over the mouth gags...effectively muted so no one will hear their pleas for help.
Real Estate Risks: (approx. 60 minutes including ~3 minutes of outtakes): $20 (postpaid in US) Available on DVD-R and VHS/ PAL tape formats and all other tape formats (at extra cost).
---
Stills taken during the production of Real Estate Risks
(not all scenes are pictured)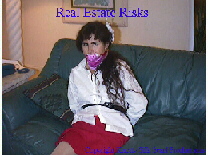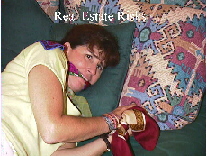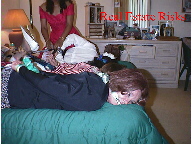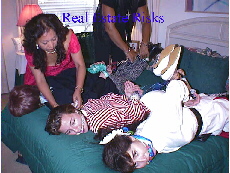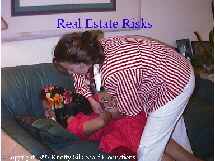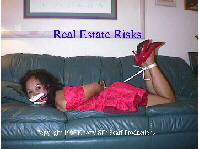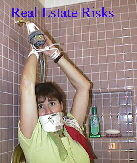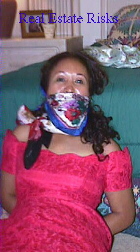 ---
BACK TO DAMSELS IN DISTRESS VIDEOS PAGE
---
Scarf Fashions | How To Tie | Models | Didcap | Evidence | Order
Quick Guide | Erotic | Scarf Rope | Pantyhose | Amateurs | Specialty
Tommy and Bev, Knotty Silk Scarf Productions
© 2000 - 2007, All Rights Reserved.