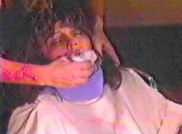 Damsel In Distress video frame CAPtureS (DIDCAPS) have become very popular. We have a large collection of DIDCAPS from movies and TV. Our favorites come from American and Spanish soap operas. The Soaps are unique in that, unlike TV or movies, bondage scenes can take place over many episodes. Hence, the heroine is often tied up in different ways and is gagged and re-gagged numerous times. While the bondage often leaves much to be desired, Soaps offer a higher percentage of realistic gags (stuffed mouths, for instance) when compared with regular TV shows and the movies. Spanish Soaps are particularly good in this respect.
We are offering our first DIDCAP tape for trade for other DIDCAP scenes. This tape contains nearly two hours of Spanish soap scenes and includes DIDCAPS from 15 shows. The longest series of scenes in a single show is about 30 minutes long! The images on this page are taken from this tape.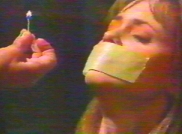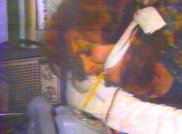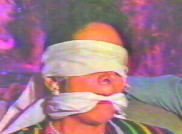 If you are interested in a trade, you MUST e-mail us

and tell us what you have to trade. If you don't have anything to trade, but are interested in the tape, please e-mail

us anyway. We will work something out.

Do not send us an unsolicited tape. We will not be responsible for your tape nor will we honor it as part of any trade. It is important that you e-mail us and we reach an agreement prior to any exchange of tapes.
In the near future we will be offering other tapes for trade including more Spanish soaps and rare scenes from American soaps.