---
Scarf and Rope Bondage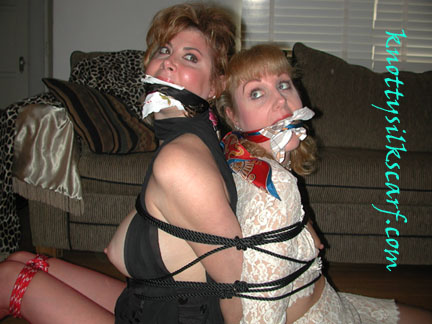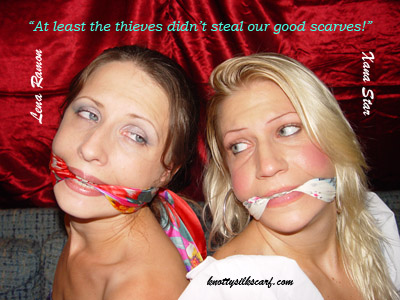 1280x1024 Wallpaper 1024x768 Wallpaper
She loves silk and wears scarves. Rich, erotic silk scarves...scented with her own perfume from being worn around her neck or over her hair. But then she is in danger. Perhaps she is the victim of a kidnapping, robbery or perhaps she needs to restrain another woman to protect herself...she may even be the criminal herself. Then her beautiful silk scarf becomes a tool to be used to bind or gag. The soft silk now securely restraining struggling hands or feet. Perhaps the lady's scarf is the only thing preventing a loud scream for help or it is keeping a silencing handkerchief in the woman's mouth. A fashion accessory...yes, but also a useful tool when a lady desperately needs to be accessorized with bindings and a gag.
And scarves are not limited to silk...cotton bandannas are often worn as scarves by women. They make excellent gags, as many of our models have discovered. Although not scarves, handkerchiefs are also a favorite for gagging.
But we aren't just about scarf bondage...rope is always a favorite binding tool. Nothing holds a woman as securely as cord wrapped around her well-proportioned body. Rope bindings and a scarf (or bandanna) gag is a perfect combination for many situations and is used frequently in our videos.
Almost all of our videos, with the exception of the pantyhose videos, use scarf and rope bindings. So, the videos shown below are the ones that don't fit in the Amateur, Erotic, or Specialty categories.
Click on a thumbnail picture to see more information about the videos.