---
KSSP-27 Nurse Nikki Gets the Treatment
Starring: Nikki Steele and Thomas Silk
A case of mistaken identity...perhaps. Nurse Nikki is abducted from her own garage. Driven in the back of a van to an unknown location. all she can do is squirm against her bonds and await her fate. Her captor has questions, but she either doesn't know the answers or isn't telling. Determined to get answers, the thug resorts to erotic interrogation techniques...ice, hot wax and tickling. To prevent her cries from being heard by neighbors during the interrogation, Nurse Nikki's mouth is thoroughly stuffed...in one scene with three hankies and in another with a bandanna. Who will win this test of wills?
Nurse Nikki Gets the Treatment: (about 56 minutes long):
$24 (Postpaid in US)
Available in VHS and PAL tapes and all other tape formats (at additional cost).
---
Stills taken during the production of Nurse Nikki Gets the Treatment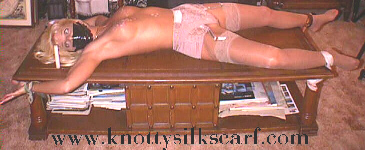 ---
BACK TO DAMSELS IN DISTRESS VIDEOS PAGE
---
Scarf Fashions | How To Tie | Models | Didcap | Evidence | Order
Quick Guide | Erotic | Scarf Rope | Pantyhose | Amateurs | Specialty
Tommy and Bev, Knotty Silk Scarf Productions
© 2000 - 2007, All Rights Reserved.