---
KSSP-24 Restraining Order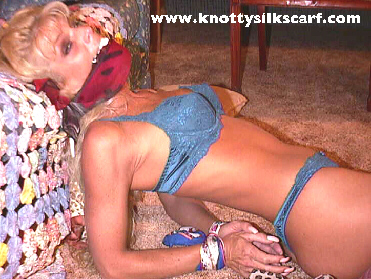 Starring: Nikki Steele, Bambolina, Brittany Karlsen, and Tom Seiko
Civil Court Judge Jacqueline McMillan (Nikki Steele) has a secret. When her house is robbed by two petty crooks, who leave Jacqueline and her maid bound and gagged, her briefcase with incriminating papers is taken. The crooks want to sell the papers back to her, but Jacqueline intends to not only retrieve her papers, but to dispose of the two robbers who know her secret. This video features women tied on-screen, stifled with stuffed mouth gags, forced to strip down to their lingerie at gun point and put to sleep with chloroform.

Restraining Order: (about 87 minutes long):
$32 (Postpaid in US)

Available in VHS and PAL tapes and all other formats (at additional cost).
---
Stills taken during the production of Restraining Order!
---
BACK TO DAMSELS IN DISTRESS VIDEOS PAGE
---
Scarf Fashions | How To Tie | Models | Didcap | Evidence | Order
Quick Guide | Erotic | Scarf Rope | Pantyhose | Amateurs | Specialty
Tommy and Bev, Knotty Silk Scarf Productions
© 2000 - 2007, All Rights Reserved.