---
KSSP-30 Spies, Housewives, and
Tight Ties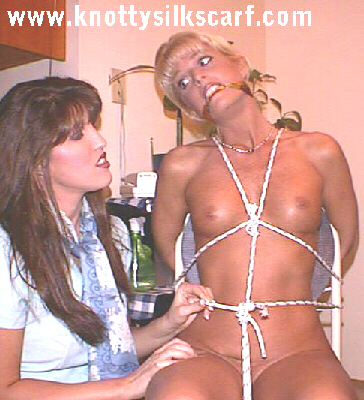 Starring: Lana Blake, Nikki Steele, and Monique Shay
Secret files are stolen from secret agent Emma Zeal (Lana Blake). Going against direct orders from her boss (Monique Shay), Agent Zeal goes after the person who exposed her lack of security and her delicious body (not to mention leaving her bound and gagged). The prime suspect is Doris Daily (Nikki Steele), who appears to be an ordinary housewife...well, not really ordinary...she is the perfect 1950's housewife. But how can a simple housewife be a top spy? Or is she a spy at all?
There are lots of mouth stuffing and multi-layered gags (which are not all obvious in the images on this page). There is one pantyhose sheath scene and another stocking sheath scene. There is also onscreen tying and two chloroform scenes (including an accidental chloroforming).
Spies, Housewives and Tight Ties (about 60 minutes long):
$32 (Postpaid in US)
Available in VHS and PAL tapes and all other tape formats (at additional cost).
---
Stills taken during the production of Spies, Housewives and Tight Ties
| | |
| --- | --- |
| | |
| | |
| | |
| | |
| | |
---
BACK TO DAMSELS IN DISTRESS VIDEOS PAGE
---
Scarf Fashions | How To Tie | Models | Didcap | Evidence | Order
Quick Guide | Erotic | Scarf Rope | Pantyhose | Amateurs | Specialty
Tommy and Bev, Knotty Silk Scarf Productions
© 2000 - 2007, All Rights Reserved.