---
KSSP-34 Bound for High Society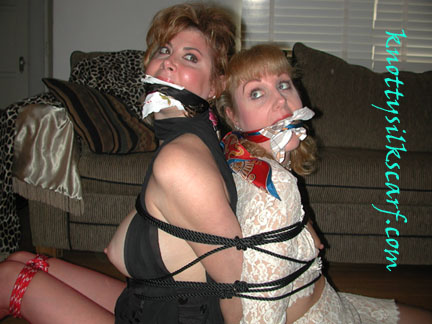 Starring: Tori Sinclair, Angella Faith, and Thomas Silk
When two roommates (Tori Sinclair, Angella Faith), who long to be part of high society and marry rich men, try to achieve their life goals, nothing but trouble follows. We join the hapless duo as their place is being robbed...what was suppose to be a date with a man with "high society connections" turns into harrowing struggle with ropes, gags, and the man's groping hands. Not to be detoured, one of the ladies finally gets a date with the the most eligible bachelor in town. When her roomy objects to be left behind, the women show that they know the ropes too...well, actually scarves and pantyhose. In the end, both ladies get a surprise they were not expecting...just when their dream is about to come true.
This video has stuffed mouth gags (including a panty stuffing), pantyhose bondage, scarf bondage, and lots of physical action between the two woman. In one scene, four scarves are in Tori Sinclair's mouth...one after another.
Bound for High Society (about 60 minutes long):
$37 (Postpaid, US and Canada) Available in VHS and PAL and all other formats.
---
Stills taken during the production of Bound for High Society
| | |
| --- | --- |
| | |
| | |
| | |
| | |
| | |
---
BACK TO DAMSELS IN DISTRESS VIDEOS PAGE
---
Scarf Fashions | How To Tie | Models | Didcap | Evidence | Order
Quick Guide | Erotic | Scarf Rope | Pantyhose | Amateurs | Specialty
Tommy and Bev, Knotty Silk Scarf Productions
© 2000 - 2007, All Rights Reserved.