---
KSSP-10: Smoked Out
Starring: Bambolina, Amber Dawn, Summer Haize, Duke Trickle, and Thomas Silk
Its 99 minutes of action with the government vs. cigarette smugglers! The boss (Duke Trickle) and his henchman (Thomas Silk) kidnap Wendy (Summer Haize), a secretary in the office of covert operations, to find out what the government is planning. Henchwoman Bridget (Bambolina) forces Wendy to talk by depriving her of cigarettes! Wendy tells them that government agent Kristen will be posing as an out-of-state buyer.
Kristen arrives for the buy, but Bridget takes her captive. Is all lost? Are Wendy and Bridget doomed? There are several twists to the story. (We don't want to give them away!) In the end, there is an airtight room, bound and gagged women and burning cigarettes using up what little air that remains. Will anyone survive?
This is a smoking-bondage video. There are long scenes with people smoking (while watching bound women). There is one short (little over a minute) enforced smoking scene. There are terrific outdoor scenes of women bound and gagged...including two different tie-ups to a ring attached to long chain from a tree. There is a drive in the country with a bound and gagged woman in the back of the car. There are three chloroform scenes (two by a woman with a cigarette in her mouth). If you like to see woman smoking or if you like outdoor bondage or if you just like bondage, this video is for you!
---
Smoked Out: (about 99 minutes long): $20 (postpaid in US). Available in VHS and PAL and all other formats (at extra cost).
---
Stills taken during production of Smoked Out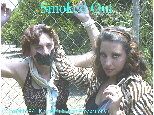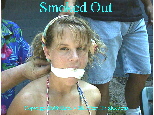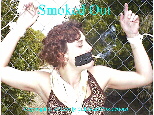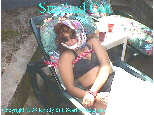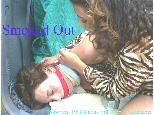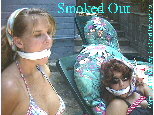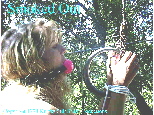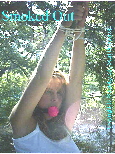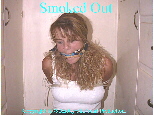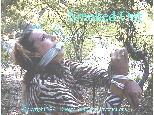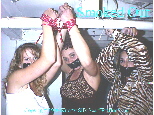 ---
BACK TO DAMSELS IN DISTRESS VIDEOS PAGE
---
Scarf Fashions | How To Tie | Models | Didcap | Evidence | Order
Quick Guide | Erotic | Scarf Rope | Pantyhose | Amateurs | Specialty
Tommy and Bev, Knotty Silk Scarf Productions
© 2000 - 2007, All Rights Reserved.