---
KSSP-2: A Case of Ransom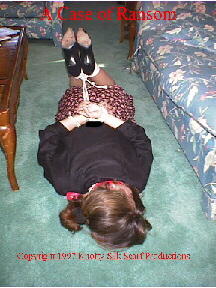 Starring: Amanda Wealth, Vinnie Mora, Rosaly Lazar,
Tammy May, Dax, Angel Scarlet, and Roxanne Starr
In A Case of Ransom, Two low-lifes, Tammy Lawless and Harry Hardcase (Amanda Wealth, Vinnie Mora), are out to kidnap wealthy Rose Sherwood (Rosaly Lazar) for ransom. However, Rose's friend, Sharon Hope (Tammy Lee) has enlisted the help of Private Investigator Matt Hammer (Dax) to protect them. Otherwise occupied, Matt assigns two (rather inept) assistants (Angel Scarlet and Roxanne Starr) to guard the two women. Rose, Sharon and their two guards soon find themselves bound and gagged at gunpoint. With Rose in the hands of the low-lifes, Matt and Sharon race to rescue her before it is too late. Each of the five women find themselves
tied and gagged more than once as the search for the kidnappers reaches its explosive conclusion.
A Case of Ransom: (over 80 minutes): $22 (postpaid in US ). Available on DVD-R and VHS/ PAL tape formats and all other tape formats (at extra cost).
---
Stills taken during the production of A Case of Ransom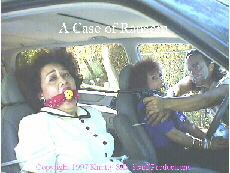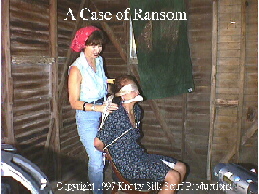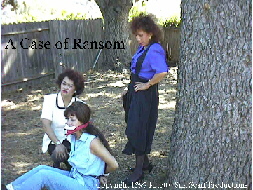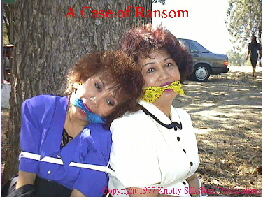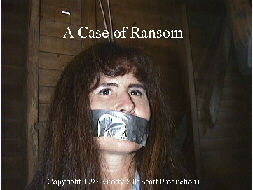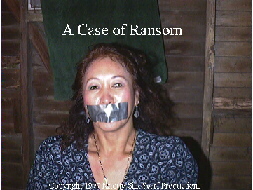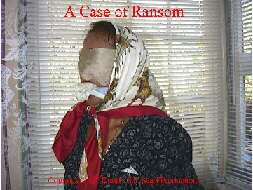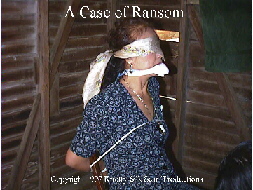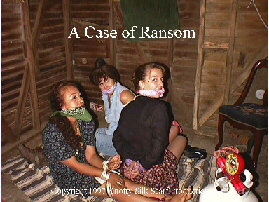 ---
BACK TO DAMSELS IN DISTRESS VIDEOS PAGE
---
Scarf Fashions | How To Tie | Models | Didcap | Evidence | Order
Quick Guide | Erotic | Scarf Rope | Pantyhose | Amateurs | Specialty
Tommy and Bev, Knotty Silk Scarf Productions
© 2000 - 2007, All Rights Reserved.