---
KSSP-25 Binding Pantyhose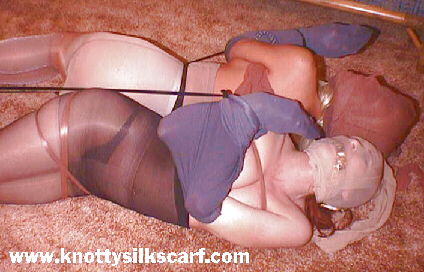 Starring: Nikki Steele, Deva Station and Tom Seiko
Janis (Nikki Steele), Kacey (Deva Station) and Ralph (Tom Seiko) are sales representatives for different pantyhose companies and they are desperate to get the Happy Crotch Superstore account. When one of them lets it be known that they have prototype pantyhose that will revolutionize the pantyhose industry, the women find that there is more than one way to wear the products they sell. This video features pantyhose bondage, including pantyhose sheath bondage.
Binding Pantyhose: (about 60 minutes long):
$32 (Postpaid in US)
Available on DVD-R and VHS/ PAL tape formats and all other tape formats (at extra cost).
---
Stills taken during the production of Binding Pantyhose
---
BACK TO DAMSELS IN DISTRESS VIDEOS PAGE
---
Scarf Fashions | How To Tie | Models | Didcap | Evidence | Order
Quick Guide | Erotic | Scarf Rope | Pantyhose | Amateurs | Specialty
Tommy and Bev, Knotty Silk Scarf Productions
© 2000 - 2007, All Rights Reserved.