---
KSSP-4: Lovely Lady Exporters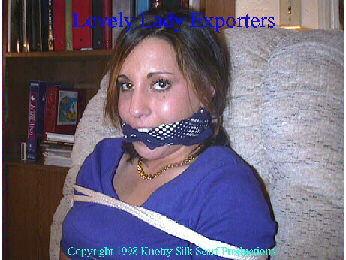 Starring: Tammy May, Amanda Wealth and Bambolina

Lovely Lady Exporters begins with two unknown women being transported at night to meet their fate overseas. It is already too late for them despite their gagged cries and struggles against their bonds. No one can hear them or notice their ropes and gags! Later a dire situation develops when two competing newspaper reporters (Tammy May and Bambolina) investigate the white slavery operation headed by Linda Loveless. First one and then the other reporter falls into Linda's clutches. Their mouths stuffed and helplessly bound...will they become merchandise or will they be eliminated for interfering with Linda Loveless? Or is it possible that they will escape and get an exclusive story? This video includes several chloroform scenes, a (short) blowing smoke in the face scene, and a (short) catfight. Rope and tape are used to bind these lovely ladies. Their mouths are stuffed (with handkerchiefs and a smiley-face rubber ball!). Scarves, knotted scarves, bandannas, handkerchiefs, and tape are used as gags. (There is a short scene with a ballgag.)

Comments from customers:

"Yesterday I received KSSP-4 . By far the best video I have purchased from you yet....I really like your home style approach to videos. I mean, shooting in houses, cars, and outdoors and not on some sound stage. I also like the occasional use of a ball gag. Your girl next door actresses are great...On a personal note, I REALLY!! liked the stocking foot bondage. I look forward to seeing more of this. I can't wait to see what you have next. Keep it up!!!...S"

"I recently received your latest video Lovely Lady Exporters and think it's great and the best one you've done so far. Was it intentional to have the model's hair fall in their faces? Either way I thought that was cool because it really added to the distressed look...TRexxx"

Lovely Lady Exporters: (80 minutes): $24 (postpaid in US). Available on DVD-R and VHS/ PAL tape formats and all other tape formats (at extra cost).
---
Stills taken during the production of Lovely Lady Exporters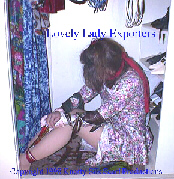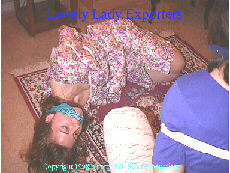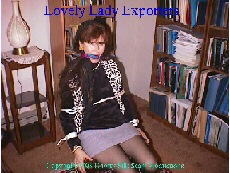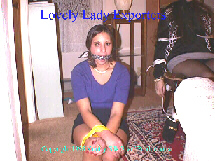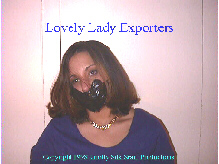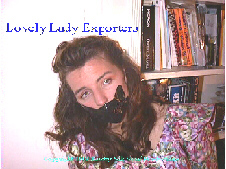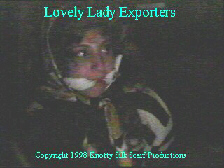 ---
BACK TO DAMSELS IN DISTRESS VIDEOS PAGE
---
Scarf Fashions | How To Tie | Models | Didcap | Evidence | Order
Quick Guide | Erotic | Scarf Rope | Pantyhose | Amateurs | Specialty
Tommy and Bev, Knotty Silk Scarf Productions
© 2000 - 2007, All Rights Reserved.