---
KSSP-5: The Lottery Ticket
Starring: Bambolina, Ami Black, Duke Trickle, with Amber Dawn
As this video opens, the apartment of two women is being robbed by the notorious Lottery Ticket Bandit. Blindfolded and bound (one in the bathtub and the other on the toilet!), the terrified women quietly speculate concerning their fate. Even that comfort is removed when the robber decides that his victims should be gagged. He stuffs their mouths and ties bandannas between their teeth. After the robber finds the lottery ticket, he leaves his two hapless victims to struggle in their bonds.
Two other woman (Bambolina and Ami Black) hear of the robbery on the radio. One of them thinks being bound and gagged during a robbery would be thrilling. Her roommate doesn't share her enthusiasm...an attitude that gets her hog-tied and gagged with scarves in her sexy lingerie. After getting free the roommate returns the favor, tying her friend to a chair in her bra and panties.
Later, excitement turns to terror when the two roommates realize that they have a winning lottery ticket only to have their home invaded by the Lottery Ticket Bandit. With taped hands and legs, the women can't resist when their mouths are stuffed and taped. Will they escape? Will the Bandit get caught?
KSSP-6: Inspired By Actual Events
Starring: Bambolina, Amber Dawn, with Duke Trickle
We have all read in the newspaper about women being bound and gagged during a robbery. Inspired By Actual Events is based loosely on newspaper accounts of robberies. Our first video of this nature tells two short stories of women being fooled by fake nuns. (No offense intended towards the Church.) In Its better to give than receive a fake nun stages a home invasion robbery and leaves a housewife bound hand and foot with a handkerchief cleave gag (with stuffing). In the other story, a church worker finds that no place is safe from a determined robber. Fooled by the fake nun at first, our heroine finds her mouth stuffed and her own scarf used as a gag. The fake nun leaves her bound to a chair and runs off with the cash.
Bracketing these stories, we find our models have a problem of their own. Seems they have been careless and some guy is ransacking their place. Bound with scarves and gagged with knotted bandannas, there is little our heroines can do, but squirm on the bed. Bambolina is wearing only a bra and panties. Amber has on a thong panties and a top.
---
The Lottery Ticket: & Inspired by Actual Events (~83 minutes long): $24 (postpaid, US ). Available on DVD-R and VHS/ PAL tape formats and all other tape formats (at extra cost).
---
Stills taken during production The Lottery Ticket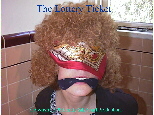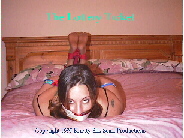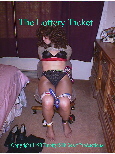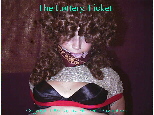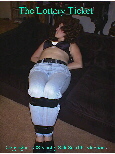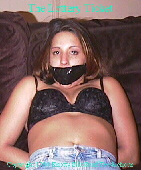 ---
Stills taken during production Inspired By Actual Events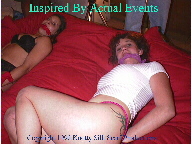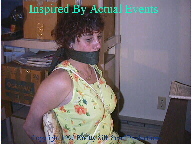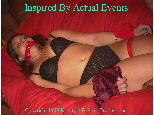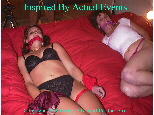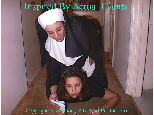 ---
BACK TO DAMSELS IN DISTRESS VIDEOS PAGE
---
Scarf Fashions | How To Tie | Models | Didcap | Evidence | Order
Quick Guide | Erotic | Scarf Rope | Pantyhose | Amateurs | Specialty
Tommy and Bev, Knotty Silk Scarf Productions
© 2000 - 2007, All Rights Reserved.