---
KSSP-6: Inspired By Actual Events
Starring: Bambolina, Amber Dawn, with Duke Trickle
We have all read in the newspaper about women being bound and gagged during a robbery. Inspired By Actual Events is based loosely on newspaper accounts of robberies. Our first video of this nature tells two short stories of women being fooled by fake nuns. (No offense intended towards the Church.) In Its better to give than receive a fake nun stages a home invasion robbery and leaves a housewife bound hand and foot with a handkerchief cleave gag (with stuffing). In the other story, a church worker finds that no place is safe from a determined robber. Fooled by the fake nun at first, our heroine finds her mouth stuffed and her own scarf used as a gag. The fake nun leaves her bound to a chair and runs off with the cash.
Bracketing these stories, we find our models have a problem of their own. Seems they have been careless and some guy is ransacking their place. Bound with scarves and gagged with knotted bandannas, there is little our heroines can do, but squirm on the bed. Bambolina is wearing only a bra and panties. Amber has on a thong panties and a top.
---
Inspired By Actual Events: (about 30 minutes long): $12 (postpaid, US and Canada). Available in VHS and PAL and all other formats.
---
Stills taken during production Inspired By Actual Events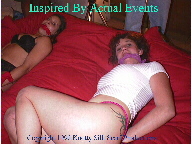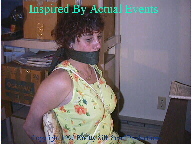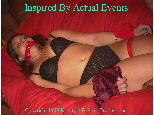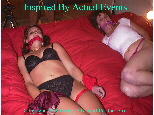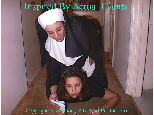 ---
BACK TO DAMSELS IN DISTRESS VIDEOS PAGE
---
Scarf Fashions | How To Tie | Models | Didcap | Evidence | Order
Quick Guide | Erotic | Scarf Rope | Pantyhose | Amateurs | Specialty
Tommy and Bev, Knotty Silk Scarf Productions
© 2000 - 2003, All Rights Reserved.