---
KSSP-8: Amber Dawn, P. I.: Learning The Ropes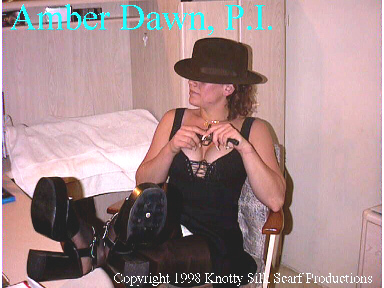 Starring: Amber Dawn. Featuring: Thomas Silk with an appearance by Bev
Amber Dawn is a private investigator, who always gets into a bind. Unfortunately for Amber, it is her partner, Paul, who has double-crossed her and forced her to wear ropes and a gag this time. He leaves Amber tied to an office chair, with her mouth packed with his handkerchief and another knotted between her lips. She struggles desperately to get free. Paul returns and opens her blouse to reveal her amble breasts. After Paul heads for the airport, Amber is left to squirm in the chair...can she get free in time to stop him? As she struggles against her bindings, Amber recalls other times she has been bound and gagged as a PI. On her very first case, she was left tied with silk scarves in lingerie on her own bed. Amber puts on an energetic struggle against
her silken bonds; her cries stifled by her mouth filling gag. As she rolls around, first one breast and then the other is exposed. On another case, a man forces her to strip down to her panties at gun point. He then takes pictures of her while she is tied and gagged with tape. How does she get out of these situations? Amber makes a dramatic escape from the chair-tie only to be recaptured by Paul and put in a tight hogtie with a stuffed mouth bandanna cleave gag. As she
squirms on the floor fighting her ropes, she recounts the time she was waiting to be "disposed of" by a contract killer. Her mouth filled with a ball gag and her hands handcuffed? Then there was the time that Amber was left to die in a condemed building, bound in a stairwell. How does she escape death in these situations? Still hogtied on the floor...will Amber escape in time to catch Paul or will he escape? Will Amber retire from the PI business after spending so much time in
ropes and gag?
Special on DVD-R ONLY: Our special DVD-R edition of Amber Dawn, P. I. includes 25 images taken during the production on the video.
Amber Dawn, P. I.: (Approx. 60 minutes):Video: $20 (postpaid in US). Available on DVD-R and VHS/ PAL tape formats and all other tape formats (at extra cost).
---
Stills taken during the production of Amber Dawn, P. I.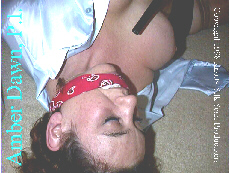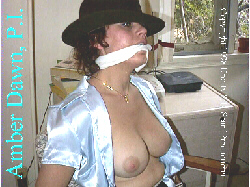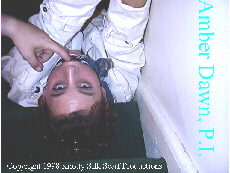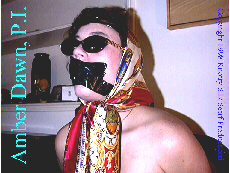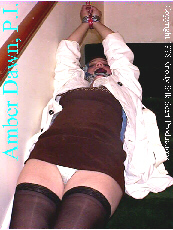 ---
BACK TO DAMSELS IN DISTRESS VIDEOS PAGE
---
Scarf Fashions | How To Tie | Models | Didcap | Evidence | Order
Quick Guide | Erotic | Scarf Rope | Pantyhose | Amateurs | Specialty
Tommy and Bev, Knotty Silk Scarf Productions
© 2000 - 2007, All Rights Reserved.