---
KSSP-9: The Name of the Game
Starring: Bambolina, Amber Dawn, and Duke Trickle
When a Helen (Bambolina), who works for a computer game company, brings home a hot new game to test, little does she realize she is putting herself in grave danger. Her first-time date Jake (Duke Trickle) is after more than just love. As he kisses her, she feels the snap of handcuffs on her wrists. Helen is quickly gagged and left to squirm in a chair while her date searches for the CD-ROM containing the game.
Meanwhile, her friend Diane (Amber Dawn) comes over...she really wants to play the new, unreleased game. Will she rescue Helen? Will she get captured by Jack? Is she really Helen's friend? Both women find themselves tied up (with rope and scarves) and gagged (scarves, bandanna, tape and stuffed with hankies) several times as Jack attempts to find the CD-ROM. At one point one of the women sees an opportunity to escape...she hops across the floor to the door...does she reach freedom? Will Jack steal the valuable CD-ROM leaving the women to squirm in ropes and gag?
---
The Name of the Game: (57 minutes long): $20 (postpaid in US). Available on DVD-R and VHS/ PAL tape formats and all other tape formats (at extra cost).
---
Stills taken during production of The Name of the Game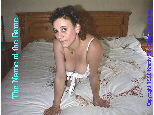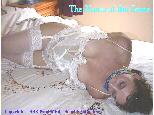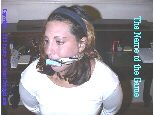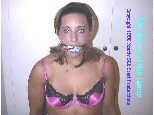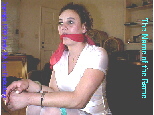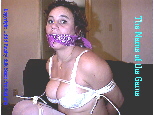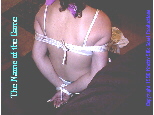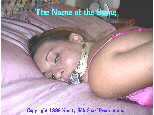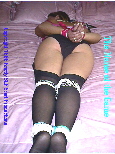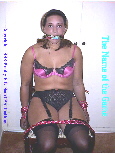 ---
BACK TO DAMSELS IN DISTRESS VIDEOS PAGE
---
Scarf Fashions | How To Tie | Models | Didcap | Evidence | Order
Quick Guide | Erotic | Scarf Rope | Pantyhose | Amateurs | Specialty
Tommy and Bev, Knotty Silk Scarf Productions
© 2000 - 2007, All Rights Reserved.