---
KSSP CF-1 Catfight for Survival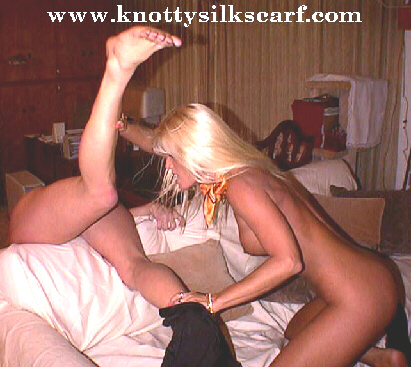 Starring: Nikki Steele, Sasha Dexter, and Monique Shay
Realizing that a fortune in jewelry had been planted in her luggage during her overseas trip, Jamie Anderson (Sasha Dexter) reports it to Federal Agent Gloria Hanes (Monique Shay). Preoccupied with her mother's need for an expensive operation, Jamie is unaware of the danger she is in until she is confronted by a woman (Nikki Steele) who breaks into her house to retrieve the jewels. What follows are hair pulling, head pounding, punching, kicking catfights. When not fighting, the women find themselves in tight bondage, chloroformed and the subject of sexual interrogation/revenge. (This almost qualifies as one of our E-Videos!) The outcome is in doubt until the end.
Catfight for Survival: (about 60 minutes long):
$32 (Postpaid in US)
Available on VHS-NTSC and VHS-PAL tapes and all other VHS formats (at additional cost).
---
Stills taken during the production of Catfight for Survival!
---
BACK TO DAMSELS IN DISTRESS VIDEOS PAGE
---
Scarf Fashions | How To Tie | Models | Didcap | Evidence | Order
Quick Guide | Erotic | Scarf Rope | Pantyhose | Amateurs | Specialty
Tommy and Bev, Knotty Silk Scarf Productions
© 2000 - 2007, All Rights Reserved.