---
KSSP E-1 Insurance Bind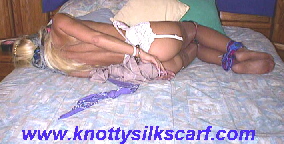 Starring: Nikki Steele, Alexandra Silk, and Tom Seiko
The action gets hot when a desperate woman (Alexandra Silk) seeks the help of a con woman (Nikki Steele) and a ruthless insurance agent (Tom Seiko) to defraud an insurance company. There is good, old damsels in distress action, panties stuffed in the mouth, crotch ties rubbing that sensitive spot, betrayals, on-screen tying and sexual tension that is broken by more than one climax. These ladies steam up the screen in ropes and gags with on-screen chemistry that is explosive. Not to be denied, the insurance agent intends to get his satisfaction as well. Insurance Bind is unlike any other damsels in distress video you have ever seen.
Insurance Bind: (over 70 minutes long):
$37 (postpaid in US).
Available on VHS-NTSC and VHS-PAL tapes and all other VHS formats (at additional cost).

KSSP E-1 gets rave reviews:
"Insurance Bind" was awesome. The acting was great and the bondage fantastic. The girl-girl stuff was pretty cool too. I would give it "Two Thumbs Up"! -S
---
Stills taken during the production of Insurance Bind!
---
BACK TO DAMSELS IN DISTRESS VIDEOS PAGE
---
Scarf Fashions | How To Tie | Models | Didcap | Evidence | Order
Quick Guide | Erotic | Scarf Rope | Pantyhose | Amateurs | Specialty
Tommy and Bev, Knotty Silk Scarf Productions
© 2000 - 2007, All Rights Reserved.