---
KSSP-E10 The Silk Scarf Bandit
A Rex Ryan Producton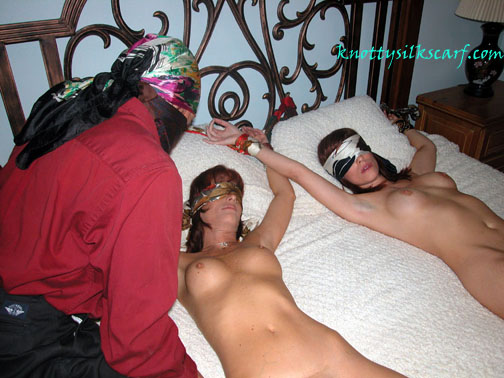 Starring: Angella Faith, Kat-9, Nikki Steele, Alex Foxe, and Rex Ryan
This is no ordinary bandit...he doesn't steal jewelry...he steals what is really most precious to women. A policewoman (Kat-9) is desperately trying to catch him. Another victim (Angella Faith) enjoys his advances. Two vacationing women (Nikki Steele and Alex Foxe) have their own passion interrupted by the Silk Scarf Bandit. His name comes from the mask he wears and the scarves he uses to subdue his victims.
There is one consensual and several non-consensual sexual acts depicted in this video. There are also two chloroform scenes. There are significant on-screen tying scenes.
This video is a Rex Ryan production. Although KSSP assisted in some aspects of the making of the video, the style of this video is different from KSSP produced videos.
The Silk Scarf Bandit (about 68 minutes long):
$37 (Postpaid, US and Canada)
Available on DVD-R and VHS-NTSC and VHS-PAL tapes and all other VHS formats (at additional cost).
---
Stills taken from the video The Silk Scarf Bandit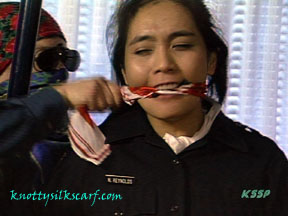 ---
BACK TO DAMSELS IN DISTRESS VIDEOS PAGE
---
Scarf Fashions | How To Tie | Models | Didcap | Evidence | Order
Quick Guide | Erotic | Scarf Rope | Pantyhose | Amateurs | Specialty
Tommy and Bev, Knotty Silk Scarf Productions
© 2000 - 2007, All Rights Reserved.