---
KSSP-E11 Bound, Gagged & Desperate Housewives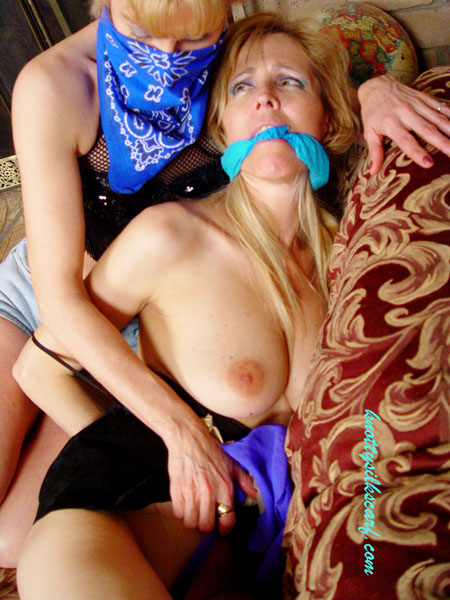 Starring: Angella Faith, Nicole Moore, Mike Robins, and Thomas Silk
While waiting for their husbands, two housewives (Angella Faith and Nicole Moore) share their sexual fantasies with each other. These include...
1) A masked female kidnapper (Angella Faith) chloroforms and abducts a woman (Nicole Moore). When the woman's husband won't pay the ransom, the kidnapper gets her payment in other ways from her captive.
2) A woman (Angella Faith) is grabbed in her bedroom and tied to a bed post by a man (Mike Robins). He then strips her and takes her.
3) When a woman (Nicole Moore) leaves her scarf by mistake at a friend's (Angella Faith) house, the friend finds it and starts playing with it. Angella brings herself to climax more than once using the scarf. When Nicole returns to get the scarf, she catches Angella pleasuring herself with the scarf. For punishment, Nicole binds Angella with scarves. She then forces Angella to pleasure her.
4) A housewife (Nicole Moore) becomes the victim of two masked robbers (Angella Faith and Thomas Silk), who tie her to a chair and gag her with scarves. Nicole is fondled by Angella. When the robbers find no money, Nicole is forced to pleasure the male robber.
There are several non-consensual sexual acts depicted in this video. There is also one chloroform scene. There are significant on-screen tying scenes.
Bound, Gagged & Desperate Housewives (about 83 minutes long):
$37 (Postpaid in US)

Available on DVD-R and VHS-NTSC and VHS-PAL tapes and all other VHS formats (at additional cost).
---
Stills taken during production of Bound, Gagged & Desperate Housewives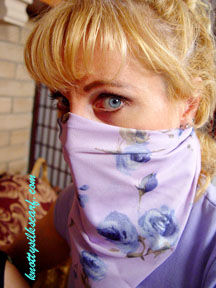 ---
BACK TO DAMSELS IN DISTRESS VIDEOS PAGE
---
Scarf Fashions | How To Tie | Models | Didcap | Evidence | Order
Quick Guide | Erotic | Scarf Rope | Pantyhose | Amateurs | Specialty
Tommy and Bev, Knotty Silk Scarf Productions
© 2000 - 2007, All Rights Reserved.