---
KSSP E-2 Silenced Naked Ladies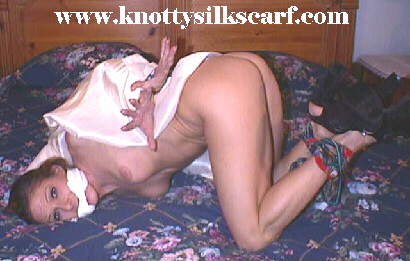 Starring: Alexandra Silk, Elizabeth X and Thomas Silk
A trio of erotic bondage stories... In Abduction Climax, a kidnap victim's (Elizabeth X) captivity is made climatic by her female captor (Alexandra Silk), who has her squirming against more than her bonds. In the second story, a woman (Alexandra Silk) confronts an Intruder in her home and is bound and gagged. Finding the woman naked under her coat, the intruder satisfies his lust. The woman struggles to free herself as the intruder searches the house. Will he have his way with her a second time? In Tell Me or Else, a robber (Elizabeth X) sexually interrogates her victim (Alexandra Silk) in order to learn where her valuable jewelry is hidden.
Silenced Naked Ladies includes on-screen tying, stuffed mouths and lots of interaction between captor and captive.
Silenced Naked Ladies: (60 minutes long):
$37 (postpaid in US).
Available on VHS-NTSC and VHS-PAL tapes and all other VHS formats (at additional cost).
---
Stills taken during the production of Silenced Naked Ladies
---
BACK TO DAMSELS IN DISTRESS VIDEOS PAGE
---
Scarf Fashions | How To Tie | Models | Didcap | Evidence | Order
Quick Guide | Erotic | Scarf Rope | Pantyhose | Amateurs | Specialty
Tommy and Bev, Knotty Silk Scarf Productions
© 2000 - 2007, All Rights Reserved.