---
KSSP E-3 Maid To Be Tied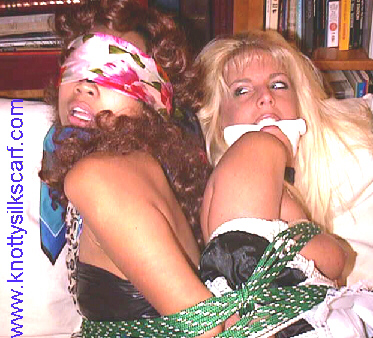 Starring: Nikki Steele, Kaiya Lea , and Thomas Silk
Denise (Nikki Steele) is a maid who will clean you out while she cleans your house. After she finds where all the valuables are hidden, her partner robs her female employers and satisfies himself at their expense. Poor Denise is just a victim like her employer or so she wants her employer to think.
Denise meets her match when she is employed by Miss Akiko (Kaiya Lea). During her job interview Denise must prove that she can satisfy her new boss, with her tongue! She finds Miss Akiko to be a strict and difficult to please mistress. Denise looks forward to putting this haughty bitch in her place. Will she? Will her partner have his way with Miss Akiko? The situation comes to a climax when her partner comes to rob Miss Akiko.
Maid To Be Tied: (60 minutes long):
$37 (postpaid in US).

Available on VHS-NTSC and VHS-PAL tapes and all other VHS formats (at additional cost).
---
Stills taken during the production of Maid To Be Tied
---
BACK TO DAMSELS IN DISTRESS VIDEOS PAGE
---
Scarf Fashions | How To Tie | Models | Didcap | Evidence | Order
Quick Guide | Erotic | Scarf Rope | Pantyhose | Amateurs | Specialty
Tommy and Bev, Knotty Silk Scarf Productions
© 2000 - 2003, All Rights Reserved.