---
KSSP E-4 Insurance Bind-2
Premium Due!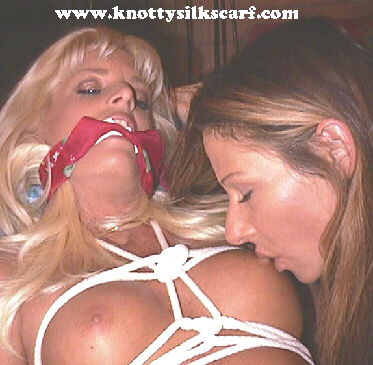 Starring: Nikki Steele, Alexandra Silk, Monique Shay, and Thomas Silk
Nikki Steele and Alexandra Silk reprise their roles from KSSP-E1. Once again they are trying to defraud insurance companies. This time two insurance investigators (Monique Shay and Thomas Silk) are hot on their trail. One of the investigators wants revenge and the other wants the money and the women or at least their bodies. A combination of ropes, gags and sex punctuate this story of intrigue and double-cross. There is a lot of verbal interaction between the women, even when they are gagged!
Insurance Bind-2 Premium Due!: (about 60 minutes long):
$37 (postpaid in US).

Available on DVD-R and VHS-NTSC and VHS-PAL tapes and all other VHS formats (at additional cost).
---
Stills taken during the production of Insurance Bind-2
---
BACK TO DAMSELS IN DISTRESS VIDEOS PAGE
---
Scarf Fashions | How To Tie | Models | Didcap | Evidence | Order
Quick Guide | Erotic | Scarf Rope | Pantyhose | Amateurs | Specialty
Tommy and Bev, Knotty Silk Scarf Productions
© 2000 - 2007, All Rights Reserved.