---
KSSP-E6 Ropes and Gags are a Horny
Girl's Best Friend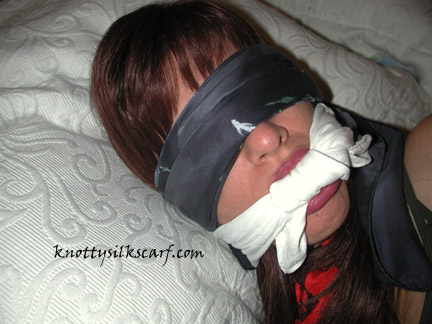 Starring: Alex Foxe, Lena Ramon, and Thomas Silk
Lilly (Alex Foxe) is rich and bored. She dreams of being robbed by and forced to satisfy her friend Jo Ann (Lena Ramon). Little does she know that Jo Ann also harbors desires of being bound, gagged and forced to service her. When Lilly innocently publishes Jo Ann's picture in the newspaper, both Lilly and Jo Ann find that their bondage fantasies are turned into a scary reality by a man from Jo Ann's past (Thomas Silk).
There are three scenes of forced sexual acts. There is also one self-bondage sequence and three chloroform scenes.
Ropes and Gags are a Horny Girl's Best Friend (about 57 minutes long):
$37 (Postpaid in US)

Available on DVD-R and VHS-NTSC and VHS-PAL tapes and all other VHS formats (at additional cost).
---
Stills taken during the production of Ropes and Gags are a Horny Girl's Best Friend
| | |
| --- | --- |
| | |
| | |
| | |
| | |
| | |
---
BACK TO DAMSELS IN DISTRESS VIDEOS PAGE
---
Scarf Fashions | How To Tie | Models | Didcap | Evidence | Order
Quick Guide | Erotic | Scarf Rope | Pantyhose | Amateurs | Specialty
Tommy and Bev, Knotty Silk Scarf Productions
© 2000 - 2007, All Rights Reserved.