---
KSSP E-8 Bound for Pleasure & Profit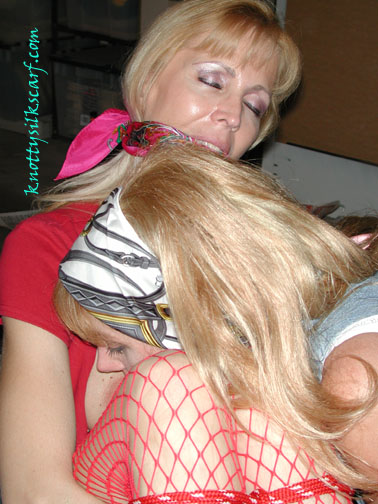 Starring: Angella Faith, Nicole Moore, and Thomas Silk
Three stories of bondage, sexual pleasure and profit.
In Kidnapped for Pleasure and Profit, an affluent wife (Angella Faith) is kidnapped. Held for ransom in a seedy hideout, she is helpless against the advances of her captors. Only things may not be exactly as they they seem. This story contains three scenes of non-consensual sex (1 M-F, 2 F-F)
In Insurance Scam, there is only self-bondage as two ladies attempt to defraud an insurance company. There is extensive gag-talk as these ladies try to deal with their situation when things don't go exactly as planned.
In Pleasure Bound, a woman (Nicole Moore), trying to sell some jewelry, lets the wrong man into her house. After she is bound and gagged, her friend (Angella Faith) arrives and is also quietly subdued. The robber then forces each woman to satisfy the other as he watches. This story contains three scenes of non-consensual (?) sex (3 F-F).
Bound for Pleasure & Profit: (about 81 minutes long):
$37 (postpaid in US).

Available on DVD-R and VHS-NTSC and VHS-PAL tapes and all other VHS formats (at additional cost).
---
Stills taken during the production of Bound for Pleasure & Profit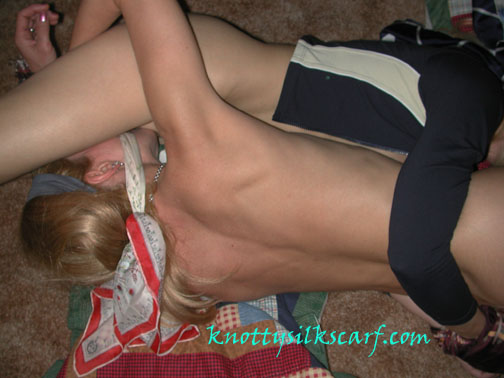 ---
BACK TO DAMSELS IN DISTRESS VIDEOS PAGE
---
Scarf Fashions | How To Tie | Models | Didcap | Evidence | Order
Quick Guide | Erotic | Scarf Rope | Pantyhose | Amateurs | Specialty
Tommy and Bev, Knotty Silk Scarf Productions
© 2000 - 2007, All Rights Reserved.