---
KSSP E-9 Real Estate Risks - 3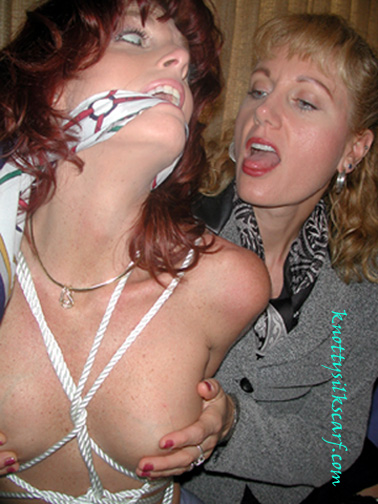 Starring: Nikki Steele, Angella Faith, and Thomas Silk
Being a real estate agent can put a girl in a real bind!
Kelly (Nikki Steele) and Jo Anne (Angella Faith) work for the same real estate company. The one that sells the next house will win a bonus worth thousands of dollars. Kelly has won the bonus for the last five years and will do anything to stop Jo Anne from winning this year...including tying up her rival with pantyhose and gagging her. To insure that Jo Anne knows her proper place in the company, Kelly forces Jo Anne to satisfy her. Assured that Jo Anne is out of the way, Kelly meets a client not knowing that he is a serial robber who preys on female real estate agents, taking their valuables and using them to satisfy himself while they are helplessly bound and gagged. Can Kelly and Jo Anne work together to catch this monster? Which one will win the company bonus?
This story contains five scenes of non-consensual sex (2 M-F, 3 F-F). There is extensive use of mouth-stuffed gags and layered gags
Real Estate Risks-2: (about 78 minutes long):
$37 (postpaid in US).

Available on DVD-R and VHS-NTSC and VHS-PAL tapes and all other VHS formats (at additional cost).
---
Stills taken during the production of Real Estate Risks - 3
---
BACK TO DAMSELS IN DISTRESS VIDEOS PAGE
---
Scarf Fashions | How To Tie | Models | Didcap | Evidence | Order
Quick Guide | Erotic | Scarf Rope | Pantyhose | Amateurs | Specialty
Tommy and Bev, Knotty Silk Scarf Productions
© 2000 - 2007, All Rights Reserved.