Starring: Morgane Paris and Darby
From 2008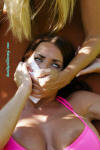 Terror at Home - 2 (155 Images)
Starring: Goldie and Nicole Moore
From 2008

A Beautiful Blue Headscarf (10 Images)
Starring: Nicole Moore
From 2008

A Neighborly Pantyhose Climax (111 Images)
Starring: Natali Demore and Heather Bates
From 2008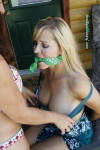 Summer Fun With Pantyhose (219 Images)
Starring: Nicole Moore and Goldie
From 2008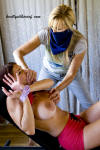 Terror At Home (203 Images)
Starring: Goldie and Nicole Moore
From 2008


White Slaver Gets Taste of Her Own Ropes (198 Images)
Starring: Lena Ramon and Goldie
From 2008


Pantyhose on the Line (301 Images)
Starring: Heather Bates and Natali Demore
From 2008


All Tied Up...Just For Me? (112 Images)
Starring: Heather Bates and Natali Demore
From 2008


The Wedding Coordinator (214 Images)
Starring: Goldie and Lena Ramon
From 2008


No Good Deed Goes Unpunished (386 Images)
Starring: Lena Ramon and Goldie
From 2008


Over Confident Reporter Roped & Scarfed (164 Images)
Starring: Cleo Nicole
From 2008

Employee Evaluation (213 Images)
Starring: Nikki Steele and Cleo Nicole
From 2008

Hotel: Put On Ice (212 Images)
Starring: Paige Richards and Nicole Moore
From 2008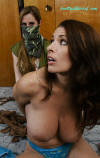 She Stole More Than Jewelry (343 Images)
Starring: Goldie and Natali Demore
From 2008

Kidnapped By The Headscarf Gang (367 Images)
Starring: Julie Simone, Nikki Steele and Cleo Nicole
From 2008

A Scarf for Every Mouth (80 Images)
Starring: Nikki Steele, Cleo Nicole, and Julie Simone
From 2008

Political Argument - Resolved with Pantyhose (136 Images)
Starring: Nikki Steele, Cleo Nicole, and Julie Simone
From 2008

Singer Hogtied with Bandannas (316 Images)
Starring: Cleo Nicole, Julie Simone and Nikki Steele
From 2007-8

Ghostly Intervention - 2: Silk Bound (202 Images)
Starring: Darby and Loren Chance
From 2007-8

"Vengeance is Mine" Says Autumn (336 Images)
Starring: Divinora Darling and Autumn Woods
From 2007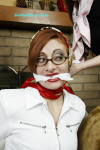 Not According To Plan (198 Images)
Starring: Darby and Loren Chance
From 2007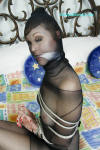 Ghostly Intervention (216 Images)
Starring: Loren Chance and Darby
From 2007
A Little Drink, A Lot of Money (228 Images)
Starring: Divinora Darling and Autumn Woods
From 2007


Pantyhose Payback is a Bitch (69 Images)
Starring: Nicole Moore and Morgane Paris
From 2007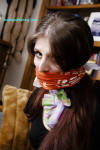 Object of My Desire (125 Images)
Starring: Morgane Paris and Nicole Moore
From 2007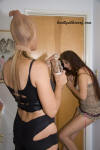 Would You like Chloroform with Your Pantyhose, Dear? (157 Images)
Starring: Morgane Paris and Nicole Moore
From 2007

Lights Out for PI (77 Images)
tarring: Nicole Moore
From 2007


When Neighbors Disagree (206 Images)
Starring: Sierna Scott and Loren Chance
From 2007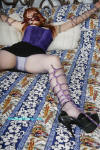 Bedroom Surprise (221 Images)
Starring: Loren Chance and Sierna Scott
From 2007


Maid in Peril (306 Images)
Starring: Julie Simone and Lena Ramon
From 2007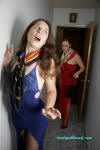 A Binding Sale (230 Images)
Starring: Lena Ramon and Julie Simone

A Studio, A Hair Fan & Goldie (67 Images)
Scarf Fashion
Starring: Goldie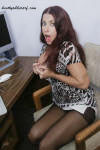 A Boring Day at the Office (239 Images)
Starring: Goldie

Cowgirl Over a Barrel (326 Images)
Starring: Goldie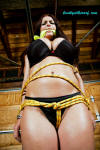 Moving Day (74 Images)
Starring: Goldie
Video Clips
Cowgirl In Peril
Starring: Sabrina Stone, Julie Simone and Tori Sinclair
Note: This is low resolution windows media clip from 2003
Reel 1 & 2 & 3 & 4 & 5 & 6 & 7 & 8 & 9 & 10 & 11 & 12 & 13 & 14 &15 & 16
Preview Reel
Silk Scarf Spies
Starring: Victoria Lane, Julie Simone and Sabrina Stome
Note: This is low resolution windows media clip from 2004
Reel 1 & 2 & 3 & 4 & 5 & 6 & 7 & 8 & 9 & 10 & 11 & 12 & 13 & 14
Preview Reel
These video clips are Real Media!!
Want more? Take our image tour below...

(Image pages will turn automatically....please wait)
BKC has always been about women in sexy bondage. BKC is NOT just a bunch of pictures of a model already tied-up and photographed from a distance. We tell you why they got tied-up and our camera is in their face when their mouth is stuffed to stifle their cries. In BKC, its a touchy, feely world. Our villains, usually women, see no reason to leave a bound and gagged beautiful lady unmolested.
Want More? Continue the Tour with Pantyhose Bondage
and after...Scarf/Rope Bondage
All images, video clips and text are Copyright 2001-2012 Knotty Silk Scarf Productions Reproduction in any form or reposting on the internet without permission is prohibited.