---
KSSP-Comp1 Gag Her!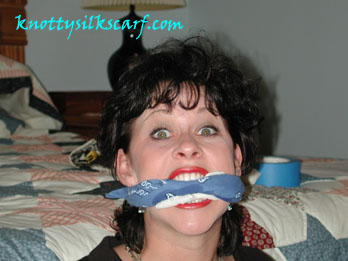 Hosted by Monique Shay
Our first compilation video features more than 50 scenes of women being gagged from our first 10 videos (KSSP-1 through KSSP-10). These scenes have been taken the original footage used to produce these videos. For a few scenes, more than one version of the gagging is shown (something you won't see in the original video). Please note that only the gagging scenes are shown. There is no extensive struggling and very little of the bindings are shown. Also, the tie-up scenes that do not have on screen gagging are not shown. However, you fast forward to see the stuffing being put in the heroine's mouth...this video is for you.
Gag Her! (about 50 minutes long):
$27 (Postpaid in US)
Available on VHS-NTSC and VHS-PAL tapes and all other VHS formats (at additional cost).
---
Stills taken during the production of Gag Her!...
Well, you have to go back to the original videos for some idea of the rest...
KSSP-1
KSSP-2
KSSP-3
KSSP-4
KSSP-5 & 6
KSSP-7
KSSP-8
KSSP-9
KSSP-10
---
BACK TO DAMSELS IN DISTRESS VIDEOS PAGE
---
Scarf Fashions | How To Tie | Models | Didcap | Evidence | Order
Quick Guide | Erotic | Scarf Rope | Pantyhose | Amateurs | Specialty
Tommy and Bev, Knotty Silk Scarf Productions
© 2000 - 2007, All Rights Reserved.